stretcher bar
Cimarron Wholesale sells joined stretcher frames to any size you need. We custom manufacture stretcher frames in house using our production saws to cut and underpinners to professionally join each frame. Having full control over the process gives us great flexibility to produce projects of any size and quantity.
Cimarron Wholesale offers three types of stretcher bar for canvas stretching. Our standard canvas stretcher bar is 3/4" deep (Code 000-200). [Technical specification is 13/16" deep.] Our gallery canvas stretcher bar is 1 1/2" deep (Code 000-150G). These are actually the same material, flipped depending on what depth requirement you need for your project.
We also stock and supply heavy-duty stretcher bar which is suitable for very large stretcher frames and is 1 3/4" deep (Code 000-300). We can do very large sizes if that's what your project demands.
We will brace stretcher bars over 60ui in size or as necessary. If you require special bracing for your project, we've got you covered and will build to suit.
canvas stretching options
We use 2 methods for Canvas Stretching.
Gallery Stretching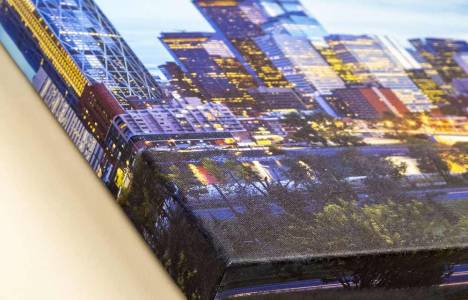 Gallery stretching is a method of canvas stretching whereby the image wraps around the edge of the stretcher frame. The canvas is secured to the back of the frame with staples.
Gallery stretched canvas prints allow you to present your work in a format viewable from all directions. Gallery wrapped canvas is meant to be displayed without a picture frame for a clean and modern look. If your image can't be cropped without losing critical content, you can mirror your image edges to create the image content for the gallery wrap.
Museum Stretching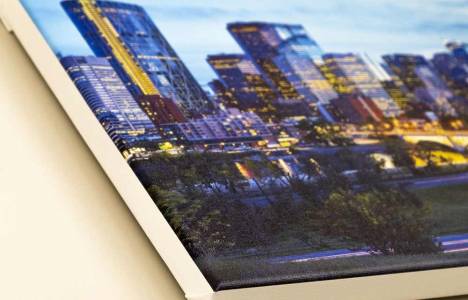 Museum stretched refers to the method of canvas stretching that displays the whole image on the front surface of the stretcher frame.
This method can be used for displaying your image on canvas when there is no room for the image to wrap around the edge without losing critical content. Generally the edge will be plain white canvas. It is possible to add a black wrapping around the edge of the frame. It can be printed or black tape can be used as a border around the edge of the frame.
We can Gallery stretch or Museum stretch your canvas prints to any of our stretcher bar profiles.
You may want to finish off your stretched canvas print with a float frame or a traditional open frame for the perfect presentation of your stretched canvas. We have hundreds of traditional frame options in stock as well as a wide variety of float frames to choose from.