CALGARY WHOLESALE PICTURE FRAMES AND COMMERCIAL PICTURE FRAMING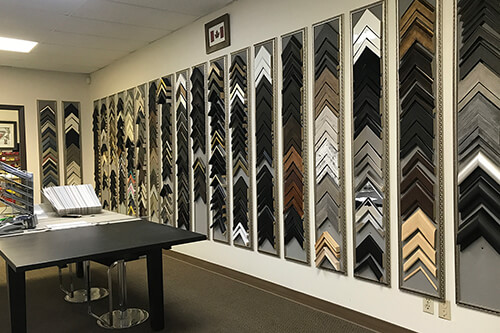 Cimarron Wholesale Framing & Supplies Ltd is a distributor of quality picture frames located in Calgary, Alberta.
Cimarron sells picture frame moulding as chops or as joined frames. We provide full custom and commercial framing, custom mat cutting, plates, digital printing, mounting, fitting and assembly services.
We offer a full range of glazing and matboard options. Cimarron can facilitate the production of your print & framing projects from start to finish entirely in house. Cimarron currently stocks more than 440 different picture frame profiles and over 220 different colours of matboard.
CIMARRON – COVID-19 Operations Update #1
Cimarron continues to closely monitor the ongoing COVID-19 situation and follow the guidance and recommendations of Federal and Provincial public health officials. In the meantime, we will operate responsibly and adjust quickly if needed, keeping the health and safety of all individuals as our top priority. If you have an order, please place that order via e-mail or phone. We will continue to closely monitor the COVID-19 situation.
CIMARRON – COVID-19 Operations Update #2
First and foremost, I hope you and your families are safe and well. The last couple weeks have been absolutely insane & unprecedented for everyone, to say the very least. We are continually evaluating what we must do to meet the needs of our customers while also keeping our community and ourselves safe.
Effective end of day today, Friday March 27th, 2020 Cimarron will be closed to all customer visits. This will be for an unknown duration. We are taking orders, and we will produce customer projects. Our deliveries have already been suspended and will remain that way. All pick-ups and drop-offs will be by appointment only. (Curb-side pickup) Please contact us via e-mail to place orders at cimarronwholesaleltd@gmail.com. Again, we can & will produce for you. Your business is important to us! Thank you for your continued support.
Stay informed, stay safe, stay healthy.
WE ARE CLOSED TO VISITORS UNTIL FURTHER NOTICE
MONDAY – FRIDAY
8:00 AM – 4:30 PM
All Pick-Up & Drop Off By Pre-Arranged Appointment Only