CALGARY WHOLESALE MOULDING AND COMMERCIAL PICTURE FRAMING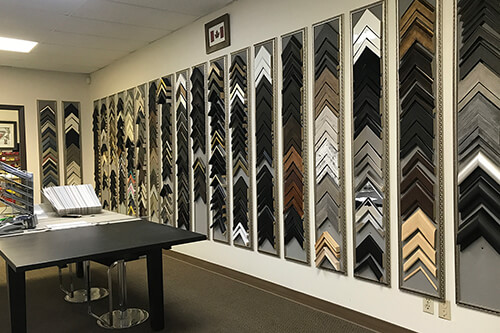 Cimarron Wholesale Framing & Supplies Ltd is a wholesale distributor of quality picture frame moulding located in Calgary, Alberta. We sell to licensed businesses, designers, artists & photographers.
Cimarron sells picture frame moulding in length, chopped to size or as joined frames. We also provide commercial framing, printing, mounting, fitting and assembly services.
We offer a full range of glazing and matboard options. Cimarron can facilitate the production of your framing projects from start to finish entirely in house. Cimarron stocks more than 400 different picture frame profiles and over 220 different colours of matboard.
HOURS OF OPERATION
MONDAY – FRIDAY
8:00 AM – 4:30 PM
Closed Weekends & Holidays
Please note: Our price list PDF is password protected.
Become a Cimarron customer today for pricing access!  You can still  Browse our Online Mouldings Catalog but you won't be able to see prices until you become a customer.