COMMERCIAL & CUSTOM PICTURE FRAMING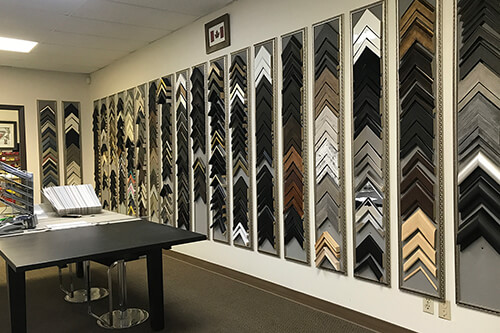 Cimarron is a full service custom picture framing shop and wholesale open frame supplier located in Calgary, Alberta. Cimarron sells picture frame moulding as joined frames or chops in any size or quantity you require. We do not sell length. (Effective Jan 1, 2021)
We provide custom picture framing, custom mat cutting, thermal sublimated plates, digital fine art & canvas printing, mounting, fitting and assembly services. We have recently added a spray booth for UV coating our canvas prints.
We offer a full range of glazing and matboard options. Cimarron can facilitate the production of your print & framing projects from start to finish entirely in house. Cimarron currently stocks more than 440 different picture frame profiles and over 220 different colours of matboard.
PRICE INCREASE NOTIFICATION – AUGUST 21, 2023
It has been some time since our last significant price increase and in this time our operating costs have continued to rise at rates that we can no longer absorb. We have witnessed ever-increasing operating costs for freight, materials, utilities, rent as well as bank interest rates. Every effort has been made to minimize the increases.
As a result, we will be introducing revised pricing effective Monday August 21, 2023. The increases will be varied depending upon the item as well as a straight across increase on the joined grid. We are also taking this moment of transition to change our pricing discount milestones as well as our payment terms.
Our terms of payment are also changing effective immediately. All accounts will become monthly VISA/Mastercard, or will be payable on receipt. Large projects will always required a 50%+ deposit.
Jersey Boxes – our fully assembled Jersey Boxes will become $475 as of August 21, 2023.
Thank you for your ongoing support and understanding.
HOURS OF OPERATION
Monday – Friday
9:00AM – 4:30PM
Closed Weekends & Holidays