Wide Format Digital Printing
Cimarron prints with a 9-color state of the art Eco-Solvent EPSON commercial grade printer. The 64" Epson SureColor S80600 handles all our imaging needs.
Cimarron can print on a range of media and mount to various substrates. We offer vacuum dry mounting in our heat press as well as adhesive based mounting services using our 64" wide roll laminator. Whatever mounting requirements your print and framing project requires, Cimarron can help you from start to finish.
Cimarron utilizes a commercial grade RIP – Onyx Thrive – for high-speed professional raster image processing & output workflows.
Cimarron is your complete one stop shop for the largest of  professional printing & framing projects!
We print to
Canvas
Photographic Print Paper
Poster Paper
Fine Art Paper
Self-Adhesive Vinyl
Vinyl Banner
POP-UP Displays
We mount to
Coroplast
Foam Core
Sintra
Gator Foam
Ultracore
Matboard
About our canvas

We use acid-free 310 gsm poly/cotton artist stretch canvas for high volume production and stretching. The natural white finish with matte coating yields a superb color gamut and resolution. We've chosen this product as the results are excellent and it stretches beautifully.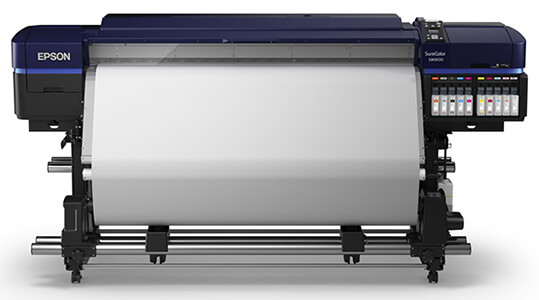 The new 64-inch SureColor S80600 features newly-developed Epson UltraChrome® GS3 9-color solvent ink – including an all-new Red solvent along with the option for white or metallic silver inks – for outstanding photographic print quality, durability, and media compatibility. When combined with an all-new precision media feeding system and a high-performance Dual-Array PrecisionCore® TFP print head, the SureColor S80600 is one of the most productive and photographic sign printers available.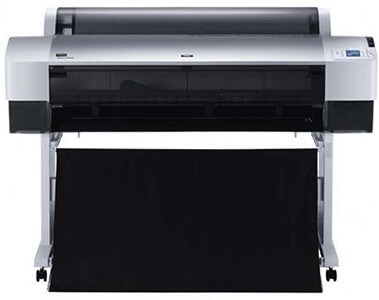 Decommissioned January 2, 2020. We no longer use this imaging device.
Professional media handling, in roll or cut sheet, up to 44 inches wide
Epson UltraChrome K3 with Vivid Magenta ink technology
MicroPiezo AMC 8-channel print head
Industry-defining, 8-colour, pigment-based ink system
Three-level Black ink technology
Two user-exchangeable Black ink modes; Photo or Matte Black
Maximum resolution of 2880 x 1440 dpi
Epson AccuPhoto HD screening technology
High-performance print engine speeds
Epson PreciseColor manufacturing
Automatic print head alignment technology
Automatic nozzle check technology
Precision print engine technology
Epson intelligent high-capacity ink system
Superior connectivity including USB 2.0 and a 10/100Base-T Ethernet